22nd Virtual International Biennial of Graphic...

The whispering spirit of Adelaida

Cienfueguera Culture Week 2021
News
It has been 27 years since the great Cuban poet Eliseo Diego is no longer in the material world, however, every time someone reads one of his poems and dreams summoned by that good, noble and pure man who was the author who immortalized the Calzada de Jesús del Monte.
To hear the poems he wrote, in his own voice, deep and deep - a voice born for such a task and to teach - is a great spiritual rejoicing; to observe his look of small but loquacious eyes, gives much peace and to listen to him talk about poetry and life, which for him was the same thing, was a privileged learning.
Considered one of the greatest poets of Latin America, he was also a storyteller, essayist and translator of prestigious exponents of world literature, and versions of valuable works written for children.
He was one of the founders and developers of the magazine
Orígenes,
directed by José Lezama Lima and José Rodríguez Feo; during the ten years it was published, this was the most important cultural magazine of its time in Cuba, a merit to which Eliseo undoubtedly contributed, along with Gastón Baquero, Cintio Vitier, Fina García Marruz, Virgilio Piñera, Octavio Smith, among other notable Cuban writers.
His poetic production has been highly praised, but his short stories are also a reason for emphasis; poetic stories, because the bard's vocation always came out of his soul, whatever the subject, and even more so when it referred to man and his unfathomable intricacies.
By the way, Eliseo confesses in the prologue to his book of short storie
s Divertimentos
, published in 1946, only preceded by En las oscuras manos del olvido ( 1942 ), his first two books, both considered poetic prose:
 "I do not know what value will be given today to these very short stories, but if I say that their author was my teacher of poetry, it is because he taught me - not by possessing them himself, but by intuiting them - the three magic strokes that have later served me to ajar, if not open wide, their doors: the conciseness or dryness of the blow, the force of the impact, and finally that supreme tension of the stroke of sight in which one catches, like a flash of lightning, what one glimpses fleeing through the darkness of the silence within".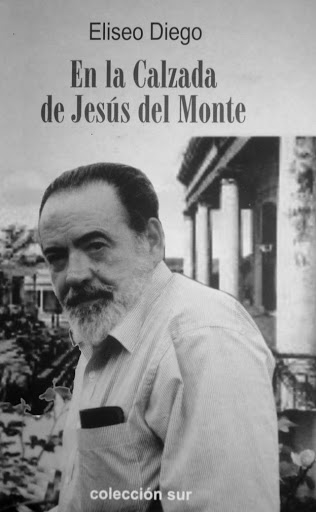 In 1949 he published the immortal collection of poems En la Calzada de Jesús del Monte, followed by his similar works
Por los
extraños pueblos
(1958), El oscuro esplendor (1966), Versiones (1970), Los días de tu vida (1977), A través de mi espejo (1981), Inventario de asombros (1982), and Veintiséis poemas recientes (1986).
In 1988 comes out of the press an endearing title: Soñar despierto, which are poems by Eliseo for children and illustrated by his eldest son Constante Diego, Rapi, a book deserving of the Critics' Prize that year.
Cuatro de Oros, his last book of poems, was published in Mexico in 1990, although later, in November 1993, appeared La sed de lo perdido, a poetic anthology by Eliseo that includes unpublished poems.
In 1967 he had already published a volume beautiful in form and in his writing: Muestrario del Mundo o Libro de las Maravillas de Boloña, (poetry and poetic prose); then his short story collection Noticias de la Quimera, in 1975, and Libro de quizás y de quién sabe (short essays and poetic prose), in 1989, which also won the Critics' Prize.
Posthumously, En otro reino frágil (1999) and Poemas al margen (2000) were published in Mexico.
One of the singularities of Eliseo's poetics is his ability to magnify human everyday life, that is, real life, by bringing to light the mystery of things in their transcendental dimension, showing the wonder of the arcane as an essential experience, thanks to his curiosity to know the soul of those things that surround us.
Memory, recollections, longing, melancholy, the return to the past as a root element, all within a deep reflection of the true meaning of life, populate the pages written by the poet.
His works are all tributes to the Spanish language, for their conceptual and formal perfection, the harmony and melody of his verses, their robust expressive richness; elegance, refinement and simplicity, never opposed; his careful search for the precise word, and his purity of feelings and faith, eternal.
For his life devoted to literature and Cuban culture, with an extraordinary influence on the generations of writers and readers who came from him, he received the National Literature Prize in 1986, and in 1992 the Universidad del Valle, in Cali, Colombia, awarded him a Doctorate Honoris Causa.
In July 1993, the Universidad de Guadalajara, the Fondo de Cultura Económica, and the Consejo Nacional para la Cultura y las Artes, awarded him the Premio de Literatura Latinoamericana y del Caribe Juan Rulfo, which currently and since 2006, is awarded under the name of Premio FIL  in Literature and Romance  languages, in recognition of the award-winning writers' work as a whole.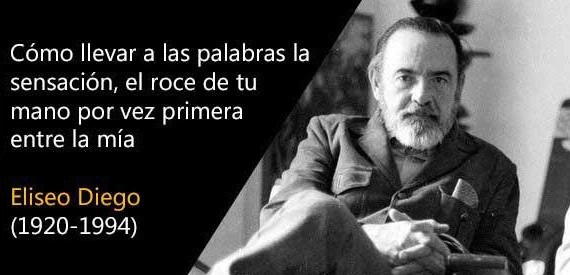 On November 27, Eliseo received the "Juan Rulfo" Award during the VII International Book Fair of Guadalajara, Mexico. Previously, only the Chilean Nicanor Parra and the Mexican Juan José Arreola had received this award. In Eliseo's case, the jury's decision was unanimous, and he was chosen among 195 candidates.
On March 1, 1994, Eliseo Diego died in that country, as a result of a myocardial infarction linked to an acute pulmonary edema; two days later his remains were transferred to Cuba, and on Friday, March 4, he received a Christian burial in the Colon Cemetery (on B Street between 10 and 12), in Havana, very close to the tomb of his friend Jose Lezama Lima.
Many accredited pens have expressed their considerations about Eliseo Diego; the phrases dedicated to him by José Lezama Lima, Cintio Vitier, Octavio Paz, or Gabriel García Márquez, who boasting of his profession as a journalist, said: "he is one of the greatest poets of the Language", are well known, but there is a very special criterion, that of the Chilean poet Jorge Teillier (Lautaro, June 24, 1935-Viña del Mar, April 22, 1996):
"I had the good fortune to read some poems from his book En la calzada de Jesús del Monte, which was first published in 1949, and I was dazzled. There is something mysterious and almost clandestine in Eliseo's voice: it is a subway breath that vibrates the communicating vessels between life and death. "Ah the terrible splendor of being alive", as he says in one of his texts".
And certainly the poet knew, like few others, of the splendor of being alive, and even more, of being alive after death, because his memory, in his poetry, as he taught, accompanies life in its daily mystery.
(Taken from Cubarte)
  English version Hernandez Oropesa